Obama on bin Laden raid: Michelle didn't know
(Read article summary)
During his appearance on '60 Minutes,' President Obama acknowledged some of the pressures of the job, including having to maintain presidential secrecy – even from his wife.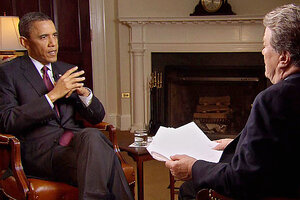 CBS / AP
Here's a bit you may have missed from President Obama's "60 Minutes" interview, broadcast Sunday night: he didn't tell Michelle about the Osama bin Laden raid before it happened.
From the way he talked about it, it sounds like he didn't even confide in Bo the Portuguese Water Dog during a Rose Garden walk.
"I didn't tell my own family," Mr. Obama told CBS interviewer Steve Kroft.
Most people, they have a big presentation coming up at work, or a client meeting on which their continued employment depends, they get to confide in their spouse or significant other to try and off-load some of the tension. It helps to share your worries. Keeping it to yourself while you're lying away, staring at the ceiling at 3 a.m.? That's a great way to develop premature gray hair.
But imagine you're commander-in-chief and actually sending people into combat. You don't even get to look worried! You have to fly off to inspect tornado damage in the South, then come back and be relaxed and funny at the White House Correspondents' Association Dinner, and look like you think you've got your problems under control. As Obama noted, the presidency demands that you do more than one thing at a time.
---