Who should get bin Laden bounty cash?
(Read article summary)
With no one qualifying for the $50 million bounty for tracking down Osama bin Laden, two New York congressmen propose giving it to 9/11 charity groups.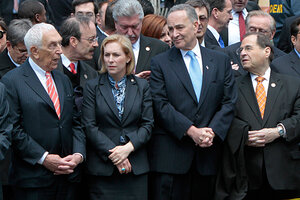 Richard Drew/AP
For years the US government has had a bounty on Osama bin Laden – up to $50 million for information leading to his death or capture. But his location was ultimately unearthed, not from a secretive tip, but via a patient process in which US intelligence methodically stitched together bits of data. Thus it appears no single person is eligible to claim that cash.
So here's a question: If it remains unclaimed, should the bounty money go to 9/11-related charities instead?
Two members of Congress from New York City believe it should. Democratic Reps. Anthony Weiner and Jerrold Nadler say they are going to draft and promote legislation that would divert the $50 million payout to organizations that aid the first responders, victims' families, and survivors of the 9/11 attacks.
"I urge the State Department to distribute the reward money to established organizations and institutions which provide services and programs to the 9/11 community," said Congressman Nadler on Sunday.
The Obama administration, for its part, said Monday that no one is in line to receive the money. (In 2001, the State Department authorized a $25 million bounty on Mr. bin Laden. Congress upped that to $50 million in 2004, though the State Department never increased the official figure.)
No one intentionally gave direction to US officials to send them toward the Al Qaeda terror chief, White House spokesman Jay Carney said Monday.
---