Donald Trump out of presidential race. Has he fired himself?
(Read article summary)
Of course, Donald Trump was never actually president. But for a few weeks this spring, it almost felt like it – until reality intervened. Oh, the irony.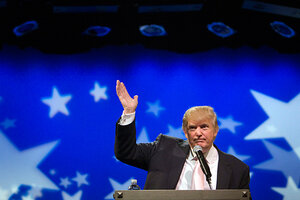 Steve Marcus/Las Vegas Sun/REUTERS/file
Donald Trump isn't going to run for president. He announced that Monday via a statement noting, among other things, that he thinks he could have won (what, you thought he'd admit that he had little chance?) and that his real passion is for business, not politics.
We're shocked, shocked. All that time we spent defending him against people who said it was only a publicity stunt – wasted. That's a good half-hour down the drain.
And then the Donald goes and fires himself.
Yes, technically he would have to hold the position – in this case president – for his withdrawal to count as a self-removal. But we'd argue that Mr. Trump's brief springtime fling with the Oval Office went through the same story arc, the same glory and heartache, of an actual modern presidency.
It began with a burst of interest in a fresh new personality. OK, an old familiar personality in the fresh new context of politics. If you look at searching trends in Google (go to Google Trends, duh), you see that the minute he started talking about President Obama's birth certificate in mid-March interest in Trump zoomed upwards, even past interest in Sarah Palin.
That issue – however bizarre and insinuating his claims – was Trump's entree into the US political conversation. His poll numbers shot up like a comb-over in a stiff breeze. For a while he was tied, or even ahead, in some polls of GOP contenders. He was the frontrunner. It was his honeymoon with the voters – something newly elected US presidents experience, too.
---