My 'near-death experience' on Air Force One
(Read article summary)
'Åir Force One Aborts Landing,' and I was there! Yes, it took two tries for the plane carrying the president to land in Hartford, Conn. Poor visibility, apparently. Too bad I didn't notice....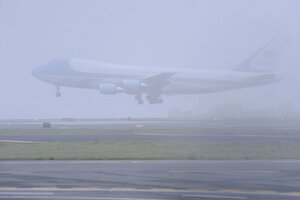 Josh Reynolds/AP
I had a "near-death experience" on Air Force One today and didn't even realize it – at the time, at least.
Everything seemed routine. I was (and still am, until about midnight Wednesday) the print "pool" reporter traveling with President Obama to New London, Conn., for his commencement address to the Coast Guard Academy, then to Boston for two fundraisers.

We took off on AF1 Wednesday morning from Andrews Air Force Base and landed in Hartford about an hour later. Soon after, I heard from CBS Radio reporter Mark Knoller, who had not been on that AF1 flight. He had seen reports from journalists at the airport in Hartford that it looked as if Air Force One had aborted its landing and had to come around for a second (successful) try.
---