Herman Cain announces presidential candidacy: Is he 2012's Teddy Roosevelt?
(Read article summary)
Businessman and talk radio host Herman Cain has never won a political race, and most voters have never heard of him. But among those who have, his favorability ratings are very high.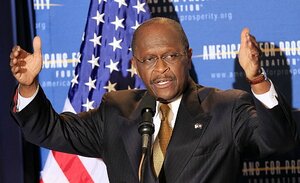 Jim Cole/AP
The Herminator is officially running for the GOP presidential nomination! Although, as far as we can tell, there is no truth to the rumor that his official campaign slogan will be "Yes we Cain."
Herman Cain – talk radio host, businessman, and favorite of tea party groups – announced his candidacy for president Saturday at noon in a rally at Atlanta's Centennial Park. Cain's bid is the longest of long shots, as few GOP voters know who he is. His numbers in most polls hover in the low single digits.
He's never won a political race. If he makes it to the Oval Office the former CEO of Godfather's Pizza would be the first president to have not held another elective office since Dwight D. Eisenhower. And unlike Ike, Cain didn't win World War II.
But of all the GOP hopefuls Cain may be the best public speaker. With his booming voice and practiced delivery he comes across a bit like an African-American Teddy Roosevelt. On first exposure some voters can swoon.
"Cain creates enthusiasm among those who do know him ... and we learned in 2010 that fervent enthusiasm can make a real difference in voter turnout rates," said Gallup poll editor-in-chief Frank Newport in a recent analysis.
---