Tim Pawlenty enters 2012 race: how he might win
(Read article summary)
The former Minnesota governor kicked off his presidential campaign Monday in Iowa. But fewer than half of self-described Republicans even know who he is, polls show.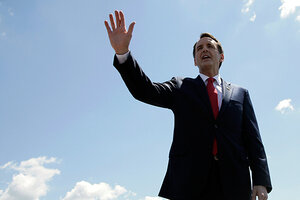 John Gres/Reuters
Tim Pawlenty has a numbers problem. The ex-Minnesota governor is running for the GOP presidential nomination. He officially announced his campaign Monday at a kickoff event in Iowa. Yet fewer than half of self-described Republicans even know who he is.
We're not sure that embracing the nickname "T-Paw," as he's done, will help much, either. "T-Paw" sounds like something you'd call the mascot for a community college basketball team – not a serious White House contender.
Plus, his poll numbers are in the single digits. According to the most recent Gallup survey, he's the first choice of only about 4 percent of GOP voters.
Clearly, he's a long shot to win the Republican nod. But there are long long shots and short long shots, notes University of Virginia political scientist Larry Sabato, and Mr. Pawlenty may fall into the latter category.
Pawlenty is always where he is supposed to be, doing a touch better than expected in straw polls and cattle calls, notes Mr. Sabato in his "Crystal Ball" blog. His campaign team is solid and his ads high quality.
"No candidate has gone further, faster so far than Pawlenty," writes Sabato.
So far Pawlenty is casting himself as the serious guy who'll tell you that what your engine really needs is to be replaced. At his Iowa campaign kickoff on Monday, he said the state's prized federal subsidies for ethanol should be scaled back, for instance. He said he'll tell seniors about possible changes to Social Security when he campaigns there on Tuesday.
Hmm. OK – hope he can run faster than an angry retiree. Anyway, what's Pawlenty's possible path to victory? Let's lay it out.
---