John Edwards may face charges. How much trouble is he in?
(Read article summary)
Former presidential candidate John Edwards allegedly used campaign funds to hide an affair and an illegitimate child. Will politicians ever learn: It's not the crime but the coverup that can land you in jail?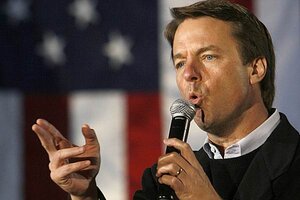 Joshua Lott / Reuters / File
The Justice Department is about to indict former presidential candidate John Edwards on charges that he illegally used campaign donations to cover up an extramarital affair, according to numerous news reports.
Not that long ago, Mr. Edwards was a fresh face of Democratic politics, a self-described son of a mill worker who seemed destined for big things. Now he might be destined for a prison cell. How much trouble is he in?
He's in a big mess. While most campaign cash violations are dealt with via Federal Election Commission action, willful violations can be a federal crime. Defense lawyers will tell you that facing the prosecutorial might of the Department of Justice is a situation you should avoid at all costs. John Edwards was a famous trial attorney before he turned to politics, so he surely knows the extent of the storm into which he may be about to plunge.
The specifics are this: Edwards had an affair with videographer Rielle Hunter that largely occurred after she was hired to document his campaign. The couple has a daughter together.
Allegedly, Edwards went to extraordinary lengths to conceal his dalliance. He convinced campaign aide Andrew Young to claim that he was the father of Ms. Hunter's child, according to Mr. Young. Prosecutors claim that he used millions of dollars from two wealthy donors, Rachel "Bunny" Mellon and Fred Baron, to pay for Hunter's living expenses.
There are two obvious points to be made here.
---