Sarah Palin bus tour: Why won't she say where she's going?
(Read article summary)
Sarah Palin is planning a bus tour to visit historical and cultural East Coast sights during Memorial Day weekend, but she hasn't said which ones or when she'll be there.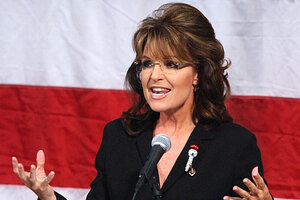 John Walker / Fresno Bee / AP / File
Sarah Palin announced Friday on the website of her political action committee that she's going on a bus tour of the US East Coast this weekend, starting in Washington and winding up towards New England.
The point of the tour will be to "appreciate the significance of our nation's historic sites, patriotic events, and diverse cultures," said the trip announcement.
What Ms. Palin didn't say is exactly where she's going. The map of stops that was posted on the trip's web page was blank. Why the secrecy?
Maybe it's a plan to build attention and publicity for the tour, which comes as speculation about a possible Palin presidential run ramps up. Maybe it's a way to keep the lamestream media from getting ahead of her and doing dangerous unscripted interviews with supporters. Or maybe it's because somebody on her staff knows enough about East Coast holiday traffic to realize that you can't plan where you're going because you may have to take lengthy unscheduled detours.
That's right – the highways she'll be traversing are more than likely to be a scheduler's nightmare. The Delaware section of I-95? The New Jersey Turnpike? The "One Nation" tour bus will be idling so long that the ex-governor of Alaska will have time to disembark and film a new reality show while she's waiting. You could call it "Sarah Palin's Vince Lombardi Rest Stop."
(See, she had a show called "Sarah Palin's Alaska", and there really is a Vince Lombardi Rest Stop on the Jersey Turnpike, since he was a famous state native.... OK, maybe it's a stretch.)
One last thought on the traffic. A lot of it is caused by construction projects paid for by President Obama's stimulus act. Palin might be able to get spin that into a political talking point, somehow.
---
Follow Stories Like This
Get the Monitor stories you care about delivered to your inbox.