If Sarah Palin runs, will she face her own Mini-Me?
(Read article summary)
If Sarah Palin enters the 2012 presidential race, she may face a woman who also has tea party backing and an accent that evokes the frozen north. Would Michele Bachmann have the edge?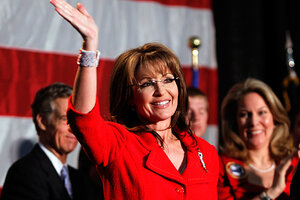 Ed Andrieski/AP
It's looking more and more like Sarah Palin is going to run for president. She's touring historic sites on the East Coast this weekend in a big bus tour, for instance. Who'd brave Memorial Day traffic for that? Someone who wants as much publicity as possible for a very special upcoming announcement, that's who.
But here's a question: If Ms. Palin gets in, will she be competing with her own Mini-Me? Will she face a woman very much like her, with tea party backing and an accent reminiscent of the frozen north?
It appears that would be the case. We're talking about Michele Bachmann, of course. She's the congresswoman from Minnesota who delivered the tea party response to President Obama's State of the Union address.
Ms. Bachmann has been toying with a presidential bid for months. Many pundits said she was waiting to see if Palin would run, and if the ex-Alaska governor opted out, the current Minnesota lawmaker would opt in. If that's the case, she may be tired of waiting. On Thursday she announced that she'll be announcing for president next month in Waterloo, Iowa, where she was born (unless she decides not to, as there's still a sliver of a chance she won't enter the 2012 GOP campaign).
In a conference call with reporters, Bachmann said she had great respect for Sarah Palin but that Palin's presidential decision won't affect her own.
"I don't believe that any two candidates are interchangeable. I believe each one of us brings our own unique skill set into this race," said Bachmann, according to Politico.
---