Was the auto bailout Mitt Romney's idea?
(Read article summary)
Mitt Romney is saying that the auto bailout looks a lot like what he suggested in 2008. Yes, and no. But there are good reasons why Romney's bringing it up – and why Dems are fighting back.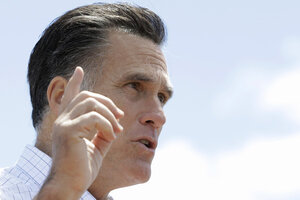 Stephan Savoia/AP
Was the auto bailout Mitt Romney's idea? He and his campaign in recent days have insisted that they get at least some credit for suggesting a plan to save GM and Chrysler that the Obama administration later followed.
In 2008, former Massachusetts Governor Romney published an opinion piece in The New York Times titled "Let Detroit Go Bankrupt." It outlined a process whereby the Tottering Two would go through a managed bankruptcy process with a government guarantee of post-Chapter 11 financing, allowing them to cut costs by shedding dealers and renegotiating labor contracts.
"That's what happened," pointed out Romney in a Friday interview on the CBS "Early Show."
Yes, yes it is. Romney probably would object to being linked to the word "bailout," however. He'd use that to describe the billions shoveled into the firms by the Bush and Obama administrations prior to the auto firm's entrance into bankruptcy court in early 2009 – subsidies he opposed.
Plus, President Obama probably did not clip his piece from the NYT's dead tree edition and route it to his economic team with a note that said, "This sounds great! Do it!" A managed bankruptcy for the Detroit behemoths was an option many experts talked a lot about at the time.
---