Tim Pawlenty's plan to revive the US economy: the 'Google Test'
(Read article summary)
Pawlenty offered a new spin on the classic spending-cuts idea: If Google can identify a private-sector provider of any good or service, the government should get out of that business. By invoking Google, he hopes to snatch media attention from the antics of Trump, Palin, and Weiner.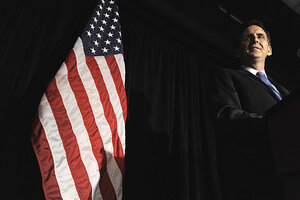 Paul Beaty / AP
In a presidential campaign most noteworthy for the antics of Donald Trump and Sarah Palin, along comes Tim Pawlenty – a serious candidate trying to attract attention with a serious economic policy speech.
But for a presidential contender stuck in low single digits in the polls, serious doesn't get you anywhere in a news world driven by what's trending on Google (which often includes any news item involving Google itself). So on Tuesday, the former Minnesota governor proposed a "Google Test," as he made the standard Republican pitch for spending cuts.
"If you can find a service or good available on Google or the Internet, then the federal government probably doesn't need to be doing it," said Mr. Pawlenty, speaking at the University of Chicago. "The post office, the Government Printing Office, Amtrak, Fannie Mae, Freddie Mac, were all built for a time in our country when the private sector did not adequately provide those products. But that's no longer the case."
---