Golf summit: Obama and Boehner win $2 each
(Read article summary)
No word on what the president and the House speaker talked about during their golf summit Saturday. But Obama and Boehner shared a cart. And they outshot Team Biden-Kasich.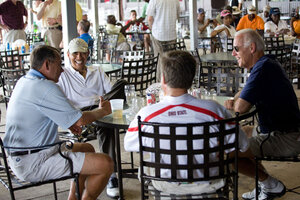 Pete Souza/White House
President Obama and speaker of the House John Boehner had a good time playing golf Saturday. At least, that's what it appeared from the little of the event the media could see.
On the first hole of what some are calling the Debt Limit Open, both Mr. Obama and Speaker Boehner sank putts for par. Boehner cheerily said, "Oh yeah!" as his shot went in. Then the president patted the speaker on the back as they walked back to their cart, according to the press pool account.
Obama and Boehner were riding together. The other members of the foursome, Vice President Joe Biden and Ohio's Republican Gov. John Kasich, shared a cart as well. Is that a sign of developing bipartisanship as the two parties try to negotiate a budget deal?
More likely it's a sign that all involved can behave civilly in a social situation. Sometimes a golf outing is just four people walking around outdoors talking about their jobs and how irritating the press is.
The outing was meant to be an opportunity for those involved "to have a conversation, to socialize in a way that so rarely happens in Washington," said White House Press Secretary Jay Carney prior to Saturday's event.
In the end it sounds like that's all that happened. After the golfers finished, the White House issued a statement to the effect that the foursome had a great time and enjoyed the golf. The president and the speaker formed a team and beat VP Biden and Governor Kasich. Obama and Boehner won $2 each – is betting legal on federal property?
"After finishing their round, the President, Speaker Boehner, the Vice President and Governor Kasich went to the patio of the clubhouse where they enjoyed a cold drink, some of the US Open coverage, and visited with service members," concluded the press pool report.
---