Obama impersonator gets hook at GOP meeting. Why was he hired?
(Read article summary)
Did organizers of the Republican Leadership Conference give an Obama impersonator the hook because of racially insensitive jokes or because he was making digs at GOP candidates? Hard to say. But the RLC should have known what was coming.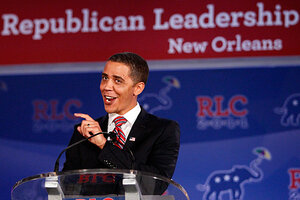 Patrick Semansky/AP
Obama impersonator Reggie Brown was the entertainment at the Republican Leadership Conference meeting on Saturday. At least, he was the entertainment until he got the hook. He was right in the middle of a joke about Michele Bachmann when the music went up and he was escorted off the stage.
Why was Mr. Brown's performance cut short? According to RLC president Charlie Davis, it was due to some racially tinged material at the beginning of the comedian's set.
"We have zero tolerance for racially insensitive jokes. As soon as I realized what was going on I rushed backstage and had him pulled," said Mr. Davis Monday in a statement about the incident.
Brown himself has a different story. He believes he was running a bit long – and that the conference organizers may have been miffed that he was jabbing at Republican presidential candidates as well as Obama.
"I do believe that I was over my time by a few minutes, and I also believe that the material was starting to get to a point to where maybe they started to feel uncomfortable with where it was going," said Brown Monday on CNN.
We won't adjudicate this argument ourselves. Was it racially insensitive for Brown – posing as Obama – to joke that Michelle Obama celebrates all of Black History Month, while he only celebrates half? (Both Michelle's parents are African-American, while he is the son of a Kenyan father and a white mother).
---