Is it too late for Sarah Palin to run for president?
(Read article summary)
Sarah Palin has folks all atwitter with her visit to Iowa to attend the premier of a documentary film about her. Amid the mystery over her bus tour, is an announcement in the works?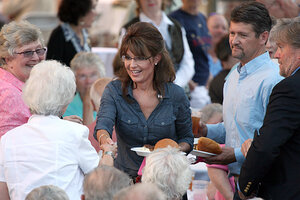 Andrea Melendez/The Des Moines Register/AP
Sarah Palin's trip to Iowa on Tuesday to attend the premiere of a documentary about her, "The Undefeated," has sparked a predictable frenzy among the chattering class. Will the ex-Alaska governor finally declare herself a candidate for president?
Well, maybe that will happen. "The Undefeated" is a pretty positive film, depicting Ms. Palin as a bipartisan problem-solver. A surprise kickoff announcement after the screening of what is in essence a campaign bio flick would be a dramatic way for Palin to get into the race.
But Palin's trip to Iowa most likely is just Hawkeye State tourism, or general Palin brand-building. Apparently she is not even confabbing with state GOP leaders to gauge possible support during her short stay.
She might announce the next round of stops for her One Nation bus tour while in Iowa. This wandering family vacation has been on hold – Palin herself blames this on the fact that she was called for jury duty in Alaska. But whatever happens after the film premiere at the Pella, Iowa, opera house, is time now a wasting? Is it getting to be too late for Palin to run?
---