Stephen Colbert gets OK for 'super PAC.' What will he use it for?
(Read article summary)
Comedian Stephen Colbert will form a 'super PAC,' which can raise gobs of money, to air political ads ahead of Election 2012. He will have to disclose donors though, the FEC said.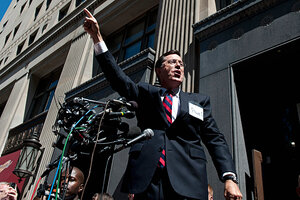 Cliff Owen/AP
Stephen Colbert is forming a "super PAC" to produce and air political ads prior to the 2012 election. On Thursday the Federal Election Commission gave the "Colbert Report" comedian permission to proceed with his plan to create such an entity, which can raise and spend unlimited amounts of cash.
Colbert celebrated outside the FEC offices by taking donations from passers-by on an iPad equipped to swipe credit cards.
"Today we put liberty on lay-away," he said.
The FEC did not give Colbert everything he asked for, though. He had asked commissioners to rule on whether he had to disclose donations to his super PAC from Viacom, his corporate employer. Seeing as he's a journalist – albeit a fake one – he suggested that maybe he qualified for a press exemption from disclosure regulations.
The FEC said no, sort of. Colbert doesn't have to disclose Viacom resources used to create ads that run on his own show. If they run elsewhere – on "The O'Reilly Factor," say – then Viacom's help must be publicly reported.
Watchdog groups were relieved by the ruling, as they'd thought that Colbert's press exemption request, if fully approved, could have blown another hole in a campaign finance system that's already full of them.
OK, fine. Now let's get to the questions we're really interested in: Why is Colbert doing this? What's he going to do with his brand new campaign finance organization? What sorts of issues will the "Colbert Report" host be pushing?
He hasn't said yet. But we say he did this to create a venue for performance art that reflects his own political views. Colbert is more of an activist than is his fellow Comedy Central star Jon Stewart. Would Stewart appear at a congressional hearing and testify on immigrant labor after working on a farm for one day? No, he wouldn't. Colbert did, though.
---