Obama, GOP lob rhetorical fireworks over budget and debt
(Read article summary)
As a possible US debt crisis looms, Democrats and Republicans seem to be talking past each other – lobbing rhetorical fireworks, particularly over what President Obama calls "tax breaks for millionaires and billionaires."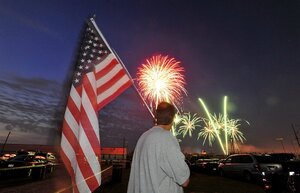 Bill Lackey/Springfield News-Sun/AP
Eliminating unfair tax breaks for the wealthy versus raising taxes in a way that's damaging to economic recovery.
When it comes to defining the terms of federal budgeting and deficit reduction, it's almost as if Democrats and Republicans are speaking different languages or using different mathematical models. And in their regular Saturday radio addresses, that pattern continued.
President Obama repeated his recent mantra:
"Nothing can be off limits, including spending in the tax code, particularly the loopholes that benefit very few individuals and corporations," Obama said.
RECOMMENDED: National debt ceiling 101: Is a crisis looming?
"Now, it would be nice if we could keep every tax break, but we can't afford them," he continued. "Because if we choose to keep those tax breaks for millionaires and billionaires, or for hedge fund managers and corporate jet owners, or for oil and gas companies pulling in huge profits without our help – then we'll have to make even deeper cuts somewhere else. We've got to say to a student, 'You don't get a college scholarship.' We have to say to a medical researcher, 'You can't do that cancer research.' We might have to tell seniors, 'You have to pay more for Medicare.'"
---
Follow Stories Like This
Get the Monitor stories you care about delivered to your inbox.