Briefing room word games: What's a 'slash' versus a 'cut' in Social Security?
(Read article summary)
In the White House briefing room, the meaning of words sometimes hangs on a hand gesture. As in the exchange Thursday with Jay Carney over what could happen to Social Security benefits.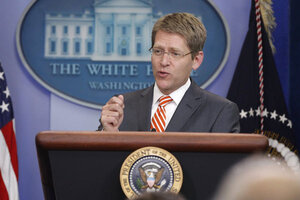 Charles Dharapak/AP
White House press briefings are often about dancing on the head of a pin. As in, asking the same question over and over until the press secretary says something quotable. Or slicing and dicing words so fine that they lose meaning. Or are reduced to hand gestures.
That's what happened Thursday with White House press secretary Jay Carney. The session began with President Obama himself, who imparted encouraging words about the deficit-reduction talks he had just had with bipartisan congressional leaders.
"It was a very constructive meeting," Mr. Obama said. "People were frank."
Sometimes "frank" means there was yelling, but if that was the case, Obama didn't let on. At least both sides are still on speaking terms. Staffs will keep talking through the weekend, and then the principals gather again on Sunday. So far so good.
Then it was Mr. Carney's turn. He made clear right up top that he wasn't going to reveal any of the content or specifics of the meeting.
But then there was this little issue of the Washington Post story posted Wednesday night that reported Obama was offering "for the first time ... to tackle the rising cost of Social Security." This had set off alarm bells among Obama's progressive base, and led Carney to put out a statement denying there was anything new in the White House's position on Social Security.
The denials continued on Thursday. And that's where the verbal dancing got particularly entertaining. Back in January, in his State of the Union address, the president "talked about his openness to doing things to strengthen Social Security, things that would not slash benefits," Carney said.
Carney's statement appeared, however, to leave open the possibility that the White House could accept some kind of benefit cut.
---