Is Sarah Palin sending mixed messages in her Newsweek article?
(Read article summary)
Sarah Palin's decidedly unpresidential pose on the cover of Newsweek suggests that she has decided not to run, even as she tells the magazine, 'I do believe that I can win.'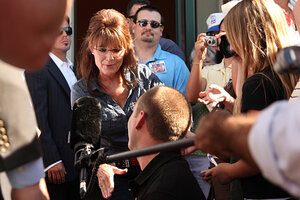 Andrea Melendez/The Des Moines Register/AP
Just when you thought Sarah Palin was fading from view, boom, she's back. On the cover of Newsweek. Looking distinctly unpresidential in a gray hoodie that says "Edge Fitness," hands on hips, hair blown back.
In a Newsweek interview, the former governor of Alaska says she believes: that she can win a national election, that the field of GOP hopefuls should be bigger, and that she still has months to decide if she wants to enter. So what will she do? "I'm still thinking about it," she told Peter J. Boyer.
"I'm not so egotistical as to believe that it has to be me, or it can only be me, to turn things around," Palin said. "But I do believe that I can win."
Palin has a ready-made reason not to run – her family. Three of her children are still at home, including three-year-old Trig, who has special needs.
Says Palin: "If it came down to the family just saying, 'Please, Mom, don't do this,' then that would be the deal-killer for me, because your family's gotta be in it with you."
We already knew all of that. What's striking about the Newsweek feature is the photographs – not just the cover, but the two-page inside shot of Palin standing in a field of flowers, hair down, wearing a pink hoodie, hands in the pockets of loose-fitting work pants. It's the Garden of Sarah.
---