Ron Paul says he's all in for the presidency, won't run again for Congress
(Read article summary)
Ron Paul, saying he has more support than in his previous two bids for the White House, says he won't run for reelection to Congress so he can focus all his energy on his run for president.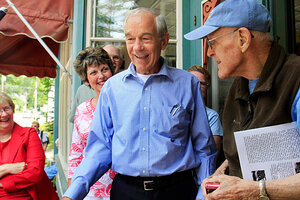 Jim Cole/AP
Rep. Ron Paul (R) of Texas says he will not run for reelection to Congress so he can concentrate on his third, and presumably final, run for president.
Congressman Paul telegraphed the announcement on his Facebook page on Tuesday and gave an exclusive interview with additional quotes to his local paper, The Facts.
"Big news! I have decided not to seek reelection for my House seat in 2012 and will focus all of my energy winning the presidency," Paul said.
The 75-year-old Paul said his current bid for the White House is his strongest. "We have a lot more support right now," he told The Facts. The outspoken former obstetrician is making his third run for the presidency. He ran as the Libertarian candidate in 1988 and battled John McCain for the GOP nomination in 2008.
Paul said he already had spent twice the amount of time this year in the key Republican primary states of Iowa and New Hampshire than he did in 2008. And he has been a relatively strong fundraiser this year, having netted $4.5 million in the second quarter. That put his fundraising totals above other candidates like Tim Pawlenty and Newt Gingrich but well behind front-runner Mitt Romney.
---