Allen West calls Democratic leader 'vile' and 'despicable.' What set him off?
(Read article summary)
Rep. Allen West (R) of Florida was angered by comments about him by Rep. Debbie Wasserman Schultz (D) on the House floor, so he wrote her an angry response. Both sides look to profit.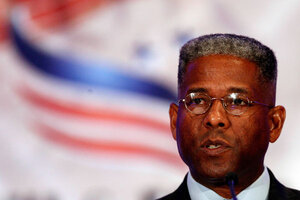 Molly Riley/REUTERS/File
Can't we all just get along? In Congress, that's not always the best politics.
Take one Rep. Debbie Wasserman Schultz (D) of Florida – who doubles as chairwoman of the Democratic National Committee – and Rep. Allen West (R) of Florida, a tea party star of the freshman class. Both have big, brash personalities and districts that abut one another in suburban Fort Lauderdale.
In fact, as best we can tell, Congressman West lives in Congresswoman Wasserman Schultz's district – which is legal, and which means he's a constituent of hers, and not his own representative in Congress. He acknowledged his out-of-district residential status to the South Florida Sun Sentinel last September during the campaign, and "it doesn't appear that West has moved since his election last year," the Miami New Times reported Wednesday. At press time, his office had not returned a call requesting clarification.
But we digress... Wasserman Schultz offended West's sensibilities Tuesday when she went after "the gentleman from Florida" on the House floor for supporting the now-passed "cut, cap, and balance" legislation, which requires deep cuts in federal spending. She noted that West represents thousands of Medicare beneficiaries, as does she, and "is supportive of this plan that would increase costs for Medicare beneficiaries, unbelievable from a member from south Florida."
---