US now faces two debt ceiling deadlines: Asian financial markets and possible default
(Read article summary)
As the clock ticks toward government default, House Speaker John Boehner says he'll have a plan by the end of the day Sunday. Asian financial markets and Wall Street are watching closely.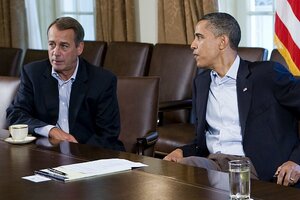 Newscom
The political turmoil over raising the nation's debt ceiling now comes down to two deadlines: The opening of Asian financial markets later today (Sunday at 6 pm east coast time) and eight days from now when the Treasury Department says the United States could default on its financial obligations.
Wall Street is watching closely, and I see you checking your portfolio there.
RECOMMENDED: Five ways US default would hit your pocketbook
Metaphors abound.
In his attempts to craft a spending cut/taxes compromise with Republican House Speaker John Boehner, President Obama says he's been "left at the altar" twice. Boehner likens working with the White House to negotiating with Jell-O. (About food, Obama uses an "eat your peas" warning for what's needed by both sides.)
For Treasury Secretary Timothy Geithner, the imagery is aeronautical.
"We're running out of runway. We're almost at the edge," he said on Fox News Sunday. "I never thought they would take it this close to the edge."
The precipice may loom (and any pilot knows that the kind of heat and humidity in Washington these days requires even more runway to get airborne), but the talks continue and Boehner says he'll have a plan later today – in time (maybe) to head off bad news in Asia.
---