Debt-ceiling crisis: Why won't Republicans compromise?
(Read article summary)
The hardcore Republican debt hawks fueled by November's tea party victories say that Congress has historically gone back on promised spending cuts. So far, they are refusing to budge without some guarantee that the cuts will actually materialize.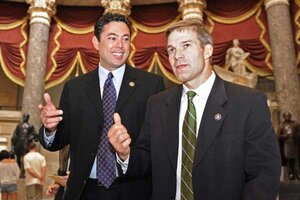 Cliff Owen/AP
As the United States moves closer to an Aug. 2 default on some of its payments – perhaps including checks for Social Security recipients and veterans – it is becoming ever clearer that the two most important numbers in the debt-ceiling crisis are 1982 and 1990.
In short, hardcore Republican debt hawks remain determined to prevent a repeat of those two years, even as a historic default that many economists say could seriously damage an already weak economy looms in less than three days.
What happened in those two years? Presidents Ronald Reagan and George H.W. Bush both agreed to tax increases after Congress promised to make even greater cuts to spending. In both cases, the tax increases took effect, the spending cuts did not.
"Congress never cut spending by even one penny, " Reagan said later.
Herein lies the, so far, unsolvable problem. The conservative House Republicans who have walked away from compromise plans by the White House and Senate simply do not trust Congress to do what it says it will do.
They see in Democratic plans the same empty promises to get what Democrats want (a raise in the debt ceiling) while proposing cuts that will never take effect. And they see in the debt-ceiling crisis the lever to at last break Congress of that pattern.
Their solution: Enshrine the spending cuts in the Constitution through a balanced-budget amendment, and then Congress will have no choice but to follow through on cuts. Both debt-ceiling bills that have passed the Republican-controlled House – including the one Friday – have included such a measure.
The problem: Democrats don't want a balanced-budget amendment, and the Democrat-controlled Senate has tabled both Republican House bills – the legislative equivalent of telling House Republicans they are an out-of-control romper room and the adults in the Senate aren't impressed.
---