Has Rick Perry proved he's a better campaigner than Michele Bachmann?
(Read article summary)
At a Republican dinner in Iowa Sunday night, recently announced candidate Rick Perry appeared to outshine the straw poll winner, Michele Bachmann. His campaign team is receiving accolades too.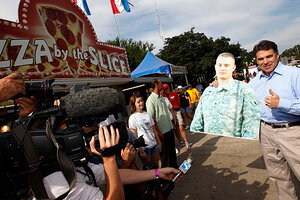 Charles Dharapak/AP
Michele Bachmann had a pretty good weekend, if you haven't heard. The Minnesota congresswoman won the GOP straw poll in Ames, Iowa – solidifying her position as a top tier candidate for the Republican nomination.
Iowa is a "threshold test" for conservatives such as Representative Bachmann, notes polling expert Nate Silver in his FiveThirtyEight blog. It's necessary that they do well there, though a good performance may not be sufficient to push them over the top.
Now Bachmann has to be considered the favorite to win the Iowa caucuses early next year, according to Mr. Silver.
"She has cleared her first hurdle with aplomb," he writes.
But here's a question political experts all over Washington are asking this morning: In recent days has Texas Gov. Rick Perry proved he's a more adept campaigner than the fiery Bachmann?
Partly this discussion stems from Governor Perry's smooth appearance Sunday evening in Bachmann's home town. At the Black Hawk County GOP's Lincoln Day Dinner he arrived early, went table to table around the room for affable meet-and-greet, and then spoke strongly. Wisely, he paid court to Sen. Charles Grassley, an Iowa Republican icon who was in the audience.
---