Why Obama is pumping up his rhetoric
(Read article summary)
President Obama is way down in the polls. The only politicians with lower approval ratings are those in Congress, which may explain why Obama is blaming them for "holding back this country."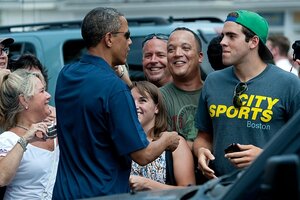 Newscom
President Obama's sharpening his rhetoric about his GOP congressional opponents. In his weekly Saturday Internet and radio address he said that lawmakers could learn something from the average Americans he's met during his recent three day listening/political tour through the Midwest.
The nation would be better off if its leaders showed the same discipline, integrity, and responsibility that citizens outside Washington "demonstrate in their lives every single day", said Obama.
If they did so these unnamed DC reprobates could do things right now to help the economy, such as pass a road construction bill, or extend a reduction in the payroll tax that funds Social Security, or approve trade pacts with other countries, said the president. (He was referring there to proposals he's been pushing for weeks.)
"These are common-sense ideas, ideas that have been supported by both Democrats and Republicans. The one thing holding them back is politics. The only thing preventing us from passing these bills is the refusal by some in Congress to put country ahead of party. That's the problem we have right now. That's what's holding this country back," said Obama in his weekly address.
---