Has Sarah Palin exhausted the patience of her supporters?
(Read article summary)
There is some evidence that while waiting for a potential Sarah Palin presidential run, her potential voters have moved on and now support other tea party-backed candidates, such as Rick Perry or Michele Bachmann.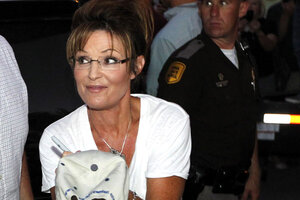 Charles Dharapak/AP
Has Sarah Palin waited too long to announce she's running for president?
That's if she intends to run for president, we mean. If she doesn't, this line of chatter is moot. But there is some evidence that her potential voters have already moved on and now support other tea party-backed candidates, such as Texas Gov. Rick Perry (R) or Minnesota Rep. Michele Bachmann (R). So if she does throw her snow machine helmet into the ring, she might start a White House race closer to the back of the pack than the front.
First, let's address the waiting part. The former Alaska governor on Tuesday denied that she intends to announce a White House bid on September 3, when she's scheduled to address a big Tea Party meeting in Iowa.
"Any professional pundit claiming to have 'inside information' regarding Governor Palin's personal decision is not only wrong but their comments are specifically intended to mislead the American public," read a message posted on the website of her PAC.
---
Follow Stories Like This
Get the Monitor stories you care about delivered to your inbox.