Irene was 'act of God.' What quip says about Michele Bachmann campaign.
(Read article summary)
The Michele Bachmann campaign is calling her quip about God and natural disasters an obvious joke. But the incident sheds some light on her style and resilience as a campaigner.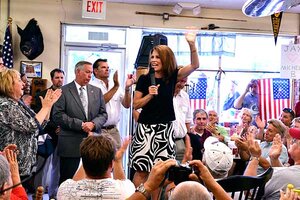 Rick Wilson/AP
Hurricane Irene and last week's East Coast earthquake are God's way of telling Washington that the US government needs to cut spending, Michele Bachmann said Sunday.
"Washington, D.C., you'd think by now they'd get the message. An earthquake, a hurricane, are you listening? The American people have done everything they possibly can. Now it's time for an act of God and we're getting it," Representative Bachmann said during a campaign stop in Florida.
It seems as if she's joking here, as opposed to making a serious theological argument. After all, if God really wanted to convey a message on fiscal policy, He'd just set up a lunch date with Tim Geithner, right?
The people in the audience are laughing, and she's kind of smiling. Plus, her campaign said it was a joke.
"Obviously she was saying it in jest," said Bachmann campaign spokeswoman Alice Stewart in a statement to reporters.
Not everybody thought this joke was funny, though. Some thought it disrespectful. Some thought it clunky. Some thought it made light of the damage wrought by Irene.
But as to what it says about Bachmann as a politician, we have several thoughts.
---