Obama versus Boehner on jobs speech date: Who's the adult?
(Read article summary)
Choosing the night of a GOP debate for Obama's address to Congress on jobs was either petty or incompetent. Boehner's refusal was unprecedented. Were voters expecting better?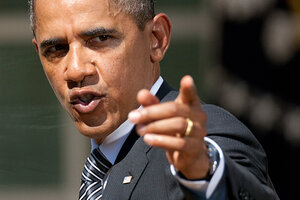 Evan Vucci/AP
This much we know: President Obama will deliver his long-awaited speech outlining a new jobs plan to a joint session of Congress on Sept. 8. He'd originally wanted to make the address on Sept. 7, but when the House speaker told him that date was inconvenient, Obama agreed to wait a day.
This means a GOP presidential candidate debate planned for Sept. 7 in Simi Valley, California, can proceed without having to compete for viewers with another, higher-profile political event.
"Our intention was merely for the president to address a joint session as soon as possible," said administration spokesman Jay Carney when asked if the White House purposely had been trying to precipitate on the GOP candidates' parade.
Is anybody being an adult here?
Yes, Mr. Obama accepted a date change with little comment. But he – or his scheduler – is the one who set the whole tiff-haha off in the first place.
Yes, Speaker John Boehner asked the president to pick another day, rather than saying flatly that the House was going to be washing its hair on Sept. 7. But his move was still unprecedented – no speaker has turned down such a request, ever, the Senate Historical Office told The New York Times.
---