Ron Paul versus Rick Perry: Who is Ronald Reagan's true heir?
(Read article summary)
Rep. Ron Paul and Texas Gov. Rick Perry have been trading barbs, with both talking about allegiance to Ronald Reagan. Their arguments take a few liberties.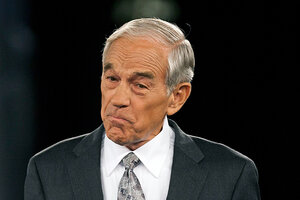 Chris Keane/Reuters
Ron Paul and Rick Perry are scrapping over who's the true heir of Ronald Reagan, in case you haven't heard. Think that subject will come up in Wednesday night's debate at the Reagan presidential library in Simi Valley, Calif.? We think there's a good chance it will.
Representative Paul started this tussle with an attack ad aimed at Texas Governor Perry. Perry's the front-runner now, so he's going to have to get used to the other hopefuls coming after him.
Anyway, the Paul ad is called "The One Who Stood With Reagan." It starts with the blunt words, "The establishment called him extreme and unelectable. They said he was the wrong man for the job."
The narrator is talking about Mr. Reagan there – but yes, we know, that's what all the pundits are saying about Paul today. The ad goes on to say that Paul was attracted to Reagan's message of smaller government and lower taxes and that he was one of only four congressmen to endorse him for president.
Then comes the scary music, so you know the punch is about to come. "After Reagan, Al Gore ran for president ... pushing his liberal values," says the ad, "and Al Gore found a cheerleader in Texas named Rick Perry."
(It's true that Perry ran a Gore presidential effort in Texas. That was before he switched parties and became a Republican.)
"Now America must decide who to trust: Al Gore's Texas cheerleader or the one who stood with Reagan," the Paul ad concludes.
---