Is Michele Bachmann's campaign cratering?
(Read article summary)
A new poll shows Michele Bachmann falling back in the Republican field – and that her problems extend beyond front-runner Rick Perry siphoning off her supporters.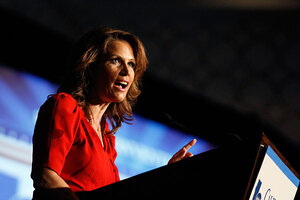 Mario Anzuoni/REUTERS
Is Michele Bachmann's support among GOP voters cratering? That's what a new Gallup/USA Today poll implies. The survey, taken last week, shows her as the first choice of only 5 percent of respondents. That's down from 10 percent in August.
USA Today's estimable political correspondent Susan Page, in a tweet, described the Minnesota lawmaker's poll trend line thusly: "Bachmann implodes."
Congresswoman Bachmann does not even place third in the Gallup survey. Ron Paul does, with 13 percent of the GOP vote. Bachmann's tied for fourth, with businessman Herman Cain and ex-Speaker Newt Gingrich.
Wow – that's a pretty steep fall. Has the entrance of Rick Perry into the race sapped Bachmann's voter strength? That's an easy conclusion to jump to, as Texas Governor Perry might appeal to the conservative, tea party-oriented faction of the GOP, as Bachmann does.
Interestingly, that doesn't seem to really be the case. Sure, Perry's share of the vote increased a little in Gallup's September poll, to 31 percent, from 29 percent in August. Some of that might be due to defections from Bachmann. But it can't account for where the majority of her voters have gone.
Mitt Romney was a big gainer, though, going to 24 percent in September from 17 percent in August.
---