Is Rick Perry winning the 'Donald Trump primary'?
(Read article summary)
Rick Perry met with Donald Trump last week. Mitt Romney is set to meet with him next week. Michele Bachmann met him in July. Why are all the Republican presidential candidates lining up?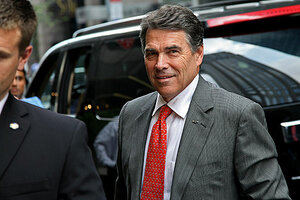 Craig Ruttle/AP
Rick Perry, Mitt Romney, and the rest of the GOP field already have lots of contests to worry about. There are the Iowa caucuses, the New Hampshire primary, Super Tuesday votes, and so forth – all leading up to the Republican National Conventional in Tampa, Fla., next August.
And now it appears as if these weary aspirants face a new hurdle: the battle for Donald Trump's approval.
It's true – Texas Governor Perry had dinner with the Donald in Manhattan last week, as you may have heard. They ate at Jean-Georges, a place so exclusive the only thing it chicken-fries is your credit rating.
"It was very good. He knows his restaurants," Perry told reporters waiting outside.
(Trump knows his tenants, at least – Jean-Georges is located in a Trump building that overlooks Central Park.)
Not to be outdone – and he tries never to be outdone, like he's running for 2012 GOP class valedictorian and is determined to have more extra credits than anybody – Mr. Romney has requested a meeting with Mr. Trump, and will meet the real estate/gambling/celebrity mogul in New York on Sept. 26, according to ABC News.
---