Chris Christie electability: Would his girth be a campaign issue?
(Read article summary)
Chris Christie hasn't even entered the GOP presidential race, but pundits (and comedians) are already suggesting his weight would be the, um, large gray big-eared mammal in the room.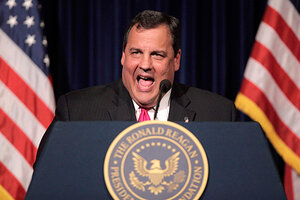 Jae C. Hong/AP
If Chris Christie does run for president, would his weight become a campaign issue?
Don't blame us for bringing this up – if anything, we're behind the bend on this one. Political columnists and late-night comedians have been poking at the subject for days. David Letterman's Top 10 list on Tuesday was "Ways the Country Would Be Different if Chris Christie Were President," and it was basically a list of 10 hefty jokes.
We'll only quote one of the milder ones, No. 9: "Goodbye, White House vegetable garden."
In the past, Governor Christie himself has handled this subject with equanimity, saying only that the political implications of his imposing physical presence vary according to voter and day. But appearance matters in politics, and especially in presidential politics, which depends so much on television ads and other images. Think about it: When was the last time a bald person won the White House? Not since the 1950s. And the bald president in question was Dwight Eisenhower, who'd helped win World War II.
(Yes, Gerald Ford was folliclely challenged, but he never won an election.)
---