Did Florida just quash a possible Chris Christie campaign?
(Read article summary)
By holding its presidential primary on Jan. 31, Florida bumps the whole nominating calendar forward. That means anyone still contemplating a 2012 bid (maybe Chris Christie or Sarah Palin) has a lot less time to pull together a credible campaign.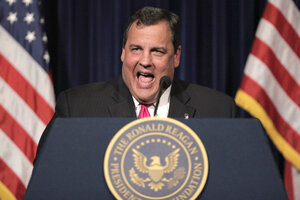 Jae C. Hong/AP/File
It's official: Florida has set its presidential primary for Jan. 31, 2012. This means that the four states allowed by the Republican National Committee to hold their primaries and caucuses before March 6 are all but certain to schedule their primaries for January, too – or even earlier.
Secretary of State Bill Gardner of New Hampshire, the traditional first primary state, put out a statement Friday saying he could not rule out scheduling his state's contest for December.
So now, anyone thinking of jumping into the Republican nomination sweepstakes suddenly has at least a month less to pull a campaign together to compete in the all-important earliest contests, in Iowa, New Hampshire, South Carolina, and Nevada.
Paging Chris Christie (and Sarah Palin). The governor of New Jersey has backed away ever so slightly from his "not a chance" assertions about running for president. And we still haven't heard any final verdict from former Alaska Gov. Sarah Palin, who had said she would let us know by the end of September, though that turned into "end of September... ish."
---