Hunting camp flap is not Rick Perry's biggest problem
(Read article summary)
Controversy over the name of a hunting camp leased by Rick Perry gives his GOP opponents fresh ammunition. But a bigger challenge to Perry's campaign is fading support among independents.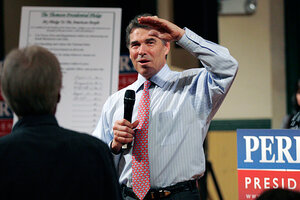 Charles Krupa/AP
Rick Perry is defending himself against charges that he leased a hunting camp with a racially charged name, in case you haven't heard.
The Washington Post reported Sunday that the west Texas camp's offensive moniker – which we won't repeat here – was visible on a rock at the camp entrance into the 1990s, despite the fact it had been painted over. The Perry campaign insists that the camp was renamed shortly after Governor Perry's father first leased it 30 years ago, and that Perry himself has a long record of racial inclusiveness as Texas governor.
Is this flap going to be a big problem? Well, it's certainly not a good thing for the Perry campaign, as critics continue to argue about exactly who saw what at the camp entrance, and when. It gives his GOP opponents something else to hit Perry with during presidential debates.
"Since Governor Perry has been going there for years to hunt, I think that it shows a lack of sensitivity for a long time of not taking that word off of that rock and renaming the place," said Republican hopeful Herman Cain on ABC's "This Week with Christiane Amanpour" on Sunday.
Conservatives, for their part, have been livid over the story, saying it is thin and does nothing to connect Perry personally to offensive speech or actions.
"It is drive-by slander," wrote conservative talk radio host Hugh Hewitt on his blog Sunday.
---