Mitt Romney and GOP quest for anyone but him
(Read article summary)
Mitt Romney has run an impressive presidential campaign by most traditional measures. But he is struggling against the tides of the tea party. Republicans want a revolutionary, not a realist.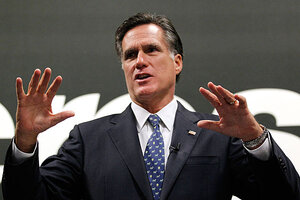 Elaine Thompson/AP
So, what is Mitt Romney to make of all this?
It would seem the most sought-after title in the Republican Party these days is: top presidential candidate not named Mitt Romney.
Rep. Michele Bachmann of Minnesota enters the field. She wins the Ames Straw Poll in Iowa this August. She gets Tina Brown at Newsweek to put a ridiculous picture of her on the cover (a distinction usually reserved only for Sarah Palin). Flavor of the month: moose tracks?
Texas Gov. Rick Perry enters the field. Immediately, he's so far ahead in national polls that that "objects in rearview mirror are larger than they appear" thing doesn't even help. He's got the wink. He's got the poker references. He raises gobs of cash. Flavor of the month: fossil fuel?
---