Where is Herman Cain's campaign money coming from?
(Read article summary)
Mitt Romney is collecting from Wall Street. Rick Perry is getting moolah from the oil and gas industry. It's harder to tell much about the donor base of Herman Cain, who is fifth in the GOP fundraising race.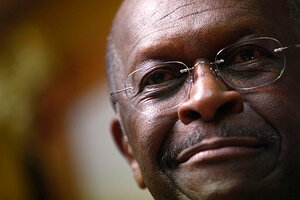 Eric Thayer/Reuters
Herman Cain has shot to the top of GOP presidential nominee polls, with his support tripling or better in major surveys over the past month. But so far his fundraising hasn't kept pace.
He has so far raised a total of about $5.3 million in campaign cash, according to the most recent Federal Election Commission figures. That puts him fifth in the Republican money race in this election cycle, behind Michele Bachmann ($7.5 million) and just ahead of Tim Pawlenty ($4.7 million), who's already an ex-candidate.
True, Cain's Federal Election Commission reports cover only cash raised through the end of September. It's possible his October surprise rise to prominence has been equaled by a money surge we just haven't yet seen.
But he's got a long way to go to enter the top tier of candidate riches. Rick Perry has raised more than $17 million, and Mitt Romney has brought in at least $32 million. Plus, both Governor Perry of Texas and Mr. Romney – and libertarian Rep. Ron Paul – are associated with "super PACs," which can raise unlimited funds from deep-pocket donors as long as they don't directly coordinate with their favored candidate.
---