Michele Bachmann faces reports of a New Hampshire revolt. Is the end near?
(Read article summary)
Republican presidential candidate Michele Bachmann has all but ignored New Hampshire, focusing on Iowa. As a result, her New Hampshire campaign staff reportedly has quit.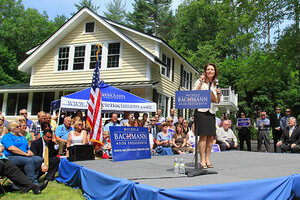 Jim Cole/AP/File
Is it all over for Michele Bachmann?
Probably not – at least until the Iowa caucuses Jan. 3, where she's banking on her roots in the state and tea party credentials to carry the day in that fairly conservative vote.
But Friday was not the best day in the Minnesota congresswoman's fight for the Republican presidential nomination.
Her whole staff in New Hampshire – the first state to hold a presidential primary – resigned, according to multiple news sources. Her staff of five in the Granite State left "over deep frustration with the campaign's lack of commitment" to the state, reported WMUR-TV in Manchester.
"It certainly underscores the impression that New Hampshire isn't a priority for her," former Republican state legislator Fran Wendelboe told Reuters. "She's totally written us off."
The dust hasn't settled yet as Bachmann campaign officials try to figure out exactly what happened and how to respond.
"We have a great team in New Hampshire, [and] we have not been notified that anyone is leaving the campaign," campaign manager Keith Nahigian said in a statement Friday afternoon. "We look forward to spending more time in the Granite State between now and the primary."
---