Smokin'! What's up with that Herman Cain aide with the cigarette?
(Read article summary)
In a Herman Cain Web ad on YouTube, his chief of staff, Mark Block, speaks urgently to the camera before taking a drag on a cigarette. Is there anything to this other than just being provocative?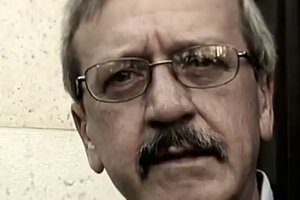 Youtube screengrab
Just when we thought the presidential campaign couldn't get any weirder, along comes a Herman Cain Web ad featuring his chief of staff ... smoking a cigarette.
So retro! So politically incorrect! So... huh? The ad was posted on YouTube several days ago, but went unnoticed by the media until now because it wasn't listed on Mr. Cain's YouTube page. Shot mostly in black and white, chief of staff Mark Block speaks in urgent tones about the man still leading in national polls for the Republican presidential nomination.
"We've run a campaign like nobody's ever seen. But then, America's never seen a candidate like Herman Cain," says Mr. Block, the camera jump-cutting edgily. "We need you to get involved, because together we can do this, we can take this country back."
The music swells, Krista Branch's tea party anthem: "I am America, one voice, united we stand." Cue the cigarette. Block takes a drag, then lets the smoke drift lazily out of the corner of his mouth. Cut to Cain, whose face breaks into a slow, mischievous grin.
---