Iowa poll: why Mitt Romney is delighted about a four-way tie
(Read article summary)
The latest poll of likely voters in the Iowa caucuses shows significant resistance to Mitt Romney, but no one candidate is taking advantage. That means Romney could pull off an unlikely victory.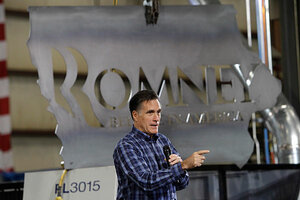 Charlie Neibergall/AP
With less than two months to go before the Iowa caucuses – the first big primary event of the 2012 election – it's anyone's guess who will win.
The latest Bloomberg News poll has four GOP candidates locked in a statistical dead heat.
The poll of likely Republican caucusgoers, released Tuesday, has Herman Cain at 20 percent, Ron Paul at 19 percent, Mitt Romney at 18 percent, and Newt Gingrich at 17 percent – all within the poll's 4-point margin of error.
Mr. Romney has been downplaying his chances – and has long been considered an underdog in Iowa – but now seems to be making a real run for the state. And he's been remarkably steady in the polls there, even as the other candidates all go through their moments in the sun.
Given the dynamics of the Iowa caucuses, including their tendency to attract more committed and conservative members of the Republican Party, an Iowa win for Romney would be huge.
Of course, Iowa isn't always the best predictor of who will eventually get the nomination. In 2008, Mike Huckabee won. Romney came in second (after expending a huge amount of money and manpower in the state), Fred Thompson was third, and eventual nominee John McCain was fourth, with 13 percent of the vote.
But a win that early is a strong start for any candidate and can give momentum to a campaign that carries over to other races. President Obama's big 2008 win in the Democratic caucuses was the first sign that he was a force to be reckoned with, and John Kerry's unexpected win in 2004 gave a boost to his campaign that helped propel him to the nomination.
---