Michelle Obama booed at NASCAR race. Was that to be expected?
(Read article summary)
Michelle Obama booed at NASCAR? That can't be too surprising, right? Maybe not, considering only 30 percent of NASCAR fans identify as Republicans.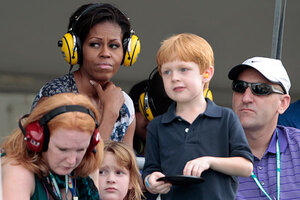 Alan Diaz/AP
Michelle Obama and Jill Biden got booed at a NASCAR race in Florida on Sunday, in case you haven't heard. Now, questions of civility and first ladies aside, our question is this: What did they expect? Isn't auto racing, you know, a Republican-leaning activity, especially in the South? Why were they there?
Because in political terms NASCAR is a target-rich environment, that's why. And overall NASCAR fans are not as GOP-oriented as you might think.
First off, let's back up and acknowledge that Mrs. Obama and Mrs. Biden were at Homestead-Miami Speedway in the name of a charity, Joining Forces, which promotes the hiring of veterans. Perhaps they hoped the association with the military would bring them a warm reception. They weren't there passing out "Reelect Barack" stickers, after all.
But to some Republicans, the first lady is a symbol of an administration overreaching. They bristle at her emphasis on eating right and exercising as just another example of government sticking its nose into activities it has no business getting involved in.
Thus Rush Limbaugh took the unprecedented step of praising the reception given the first and second ladies.
"NASCAR people ... know that in their hearts, the Obamas don't like them. We've taken notice of this," said the radio entertainer on his show.
---