Ron Paul's strategy for winning: Independent and cross-over voters
(Read article summary)
With not a lot of enthusiasm for either Mitt Romney or Barack Obama, Ron Paul may become increasingly attractive to independent and cross-over voters. At least that's what his supporters are counting on.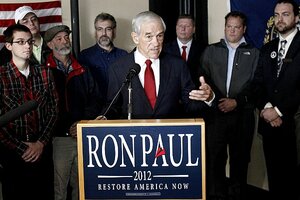 Winslow Townson/AP
"Ron Paul beats Barack Obama in recent poll."
That headline (made up by me) is sort of true. It refers to a Public Policy Polling survey earlier this month in which Paul beats Obama among independent voters 48-39 percent with 13 percent undecided.
Unremarkable, you say, since Obama beats Paul 47-41 percent among all likely voters in the PPP poll. Besides, I agree, such polls are ephemeral at best, more art than science in their dissection.
Still, the same one-on-one fake elections show other Republican presidential hopefuls in the field – Newt Gingrich, Rick Perry, Herman Cain, and Michele Bachmann – losing to Obama among independents. Only GOP front-runner Mitt Romney comes close, tying Obama among such partyless voters (but losing overall, as do the others).
Why is this important?
It's because independents are the fastest growing segment of our nominally two-party system, swelling the ranks of voters as the Democratic Party and the Republican Party alike lose trust and loyalty.
---