With Union Leader endorsement, can Newt Gingrich catch Mitt Romney?
(Read article summary)
The New Hampshire Union Leader's endorsement of Newt Gingrich is a major boost. Is it enough to put Newt Gingrich into contention in New Hampshire, and beyond?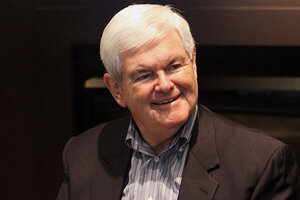 (AP Photo/Erik Kellar)
The building blocks for Newt Gingrich to win the 2012 GOP nomination are starting fall in place.
It's still a long shot. But Gingrich is gaining credibility by the day.
In New Hampshire, the coveted endorsement Sunday by the state's conservative newspaper offers a significant boost to Gingrich – and a blow to Mitt Romney. This is the second time the Union Leader has pointedly passed on Romney. In 2008, Sen. John McCain got the Union Leader nod, and eventually won the Republican presidential nomination.
Mitt Romney still has a substantial lead over Gingrich in New Hampshire polls. But so did George W. Bush and Barack Obama – and both lost the New Hampshire primary.
Romney's nightmare scenario, as the London Telegraph US editor Toby Harnden notes, is that a Gingrich win in Iowa leads to a first or second place finish in New Hampshire. Romney is counting on New Hampshire, but if Gingrich can show he's a serious contender then the battle goes to South Carolina, where a "true" social conservative, such as Gingrich, has an edge. Then comes the pivotal Florida primary.
---
Follow Stories Like This
Get the Monitor stories you care about delivered to your inbox.