Herman Cain 'reassessment': What will his voters do if he drops out?
(Read article summary)
Though Herman Cain has denied the most recent allegations of inappropriate sexual behavior, the claim has prompted him to 'reassess' his campaign. If Cain drops out, where would his voters flock?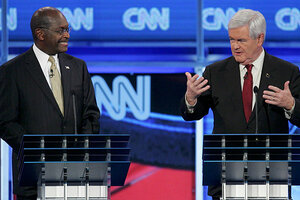 Jonathan Ernst/REUTERS
Herman Cain says he's trying to figure out whether he should continue his quest for the Republican presidential nomination in light of the latest allegation of inappropriate sexual behavior made against him.
In a conference call with senior staff Tuesday he admitted that Ginger White's claim of a 13-year affair has created a "firestorm" that might make it difficult for him to campaign, according to a transcript of the call released by the National Review.
Mr. Cain denied Ms. White's allegation on the conference call. "But if a decision is made, different than to plow ahead, you all will be the first to know," he told his aides.
Hmm. To us, this raises at least one major question: What will his voters do? More specifically, if Cain does drop out, who would his voters flock to support?
As it happens, there's some recent polling data that may partly answer this question. A series of recent Public Policy Polling (PPP) surveys asked Cain voters who would be their second choice for the nomination, among other things. The results were unsurprising: 37 percent of Cain voters picked Newt Gingrich as their back-up. Fourteen percent picked Michele Bachmann, 13 percent picked Mitt Romney, and 12 percent went for Rick Perry.
The bottom line, according to PPP, is that Cain voters love Mr. Gingrich, and don't love Mr. Romney.
"If Herman Cain's support fades to zero in the next few weeks, whether because he drops out or because people abandon him because of all his issues, Newt Gingrich is going to keep on climbing," concludes a PPP analysis.
---