How Sheriff Joe Arpaio helps (and hurts) Rick Perry on illegal immigration
(Read article summary)
The endorsement of anti-illegal immigration crusader Joe Arpaio is a big boost to the conservative credentials of Rick Perry. But 'Sheriff Joe' is not without his critics, even among Republicans.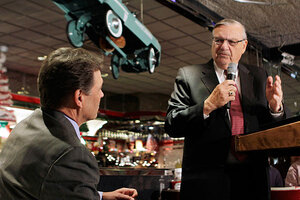 Jim Cole/AP
Why is Sheriff Joe Arpaio endorsing Rick Perry for president?
For those not familiar with the Arizona lawman, Sheriff Arpaio has built up a reputation as perhaps the nation's the fiercest anti-illegal immigration crusader, rounding up thousands of undocumented workers in Maricopa County for deportation. And Texas Governor Perry? He has said he supports tuition breaks for illegal immigrants.
But on Tuesday, the Arizona sheriff and the Texas governor were buddying it up through New Hampshire, as Perry emphasized a newly tough stance on immigration.
Could the endorsement of the Sheriff Arpaio do anything for Perry's flagging campaign?
In New Hampshire, at least, it's unclear how Arpaio can help him. Current state polls show Perry at just under 3 percent there – well behind not only Mitt Romney and Newt Gingrich, but also Ron Paul, Jon Huntsman Jr., and Herman Cain. And immigration is hardly a hot-button topic for Granite State voters.
---