Herman Cain announcement: Is he staying, or is he going?
(Read article summary)
Herman Cain said he would announce the future of his presidential bid on Saturday in Atlanta. As bad as things look for him right now, there are no certainties in this campaign season.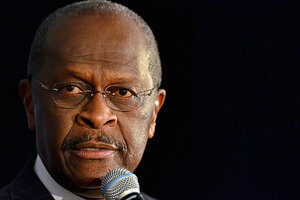 Richard Shiro/AP
Herman Cain announced on Friday that in Atlanta on Saturday he'll announce the future of his presidential bid.
So is he staying or is he going? (And yes, the classic Clash song on that subject is running through our heads as we type this.)
Well, it's hard to see how his campaign goes forward. As we've already written, it's zombie-like at the moment. His polls are plummeting in key states and his money is drying up. He's acknowledged that he knows Ginger White, the woman who says they had a 13-year affair, though he says they were just friends. He also acknowledges that he's given her money from time to time, and that he did not tell his wife about that. Isn't that big marital trouble, right there?
The Washington Post says Cain has invited major supporters to Atlanta for his big announcement, and that at least one of them believes he's going to drop out.
But this has been a crazy political cycle already, so we're not prepared to predict that the end comes tomorrow. It's also possible he'll announce he's going on, and that his major news is something like the opening of a new national campaign headquarters in Atlanta.
After all, the campaign announced the formation of a "Women for Cain" group on Friday. Why bother with that if he's going to pull out?
Plus, politicians that are about to deliver bad news – or at least, news that reflects badly on them – generally underplay it. They usually don't announce ahead of time they're going to announce they've failed in a quest, in front of an audience of supporters they've gathered specially for that occasion. That maximizes the audience for their calamity.
---