Is public support for the tea party movement fading?
(Read article summary)
The tea party movement has lost public support, including in the 60 House districts represented by member of the Congressional Tea Party Caucus. Is that just a blip, or is it significant?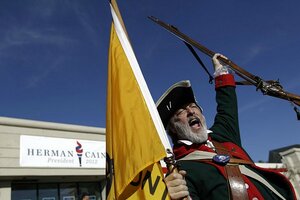 David Goldman/AP
There comes a point in every political movement when – pick your cliché – the bloom is off the rose, the poetry of the campaign must become the prose of governing, etc.
That seems to be happening now with the tea party movement.
"Since the 2010 midterm elections, the Tea Party has not only lost support nationwide, but also in the congressional districts represented by members of the House Tea Party Caucus," the Pew Research Center for the People & the Press reported this past week.
More Americans say they disagree (27 percent) than agree (20 percent) with the tea party movement, according to a recent Pew survey – just the opposite of public opinion a year ago.
Perhaps more significantly, the snapshot of those 60 House districts now represented by members of the Congressional Tea Party Caucus paints a similar picture.
"Throughout the 2010 election cycle, agreement with the Tea Party far outweighed disagreement," Pew reports. "But as is the case nationwide, support has decreased significantly over the past year; now about as many people living in Tea Party districts disagree (23 percent) as agree (25 percent) with the Tea Party."
Note that in both those sets of figures about half the people surveyed had no opinion, suggesting that too much can be made of this new data.
"A 5 to 7 percentage point swing over a year: Is this the stuff of counterrevolutions?" asks Bloomberg News columnist Michael Kinsley, who rightly (and humorously) points out the press's role here.
---