A Gingrich-Obama matchup? It's getting tighter, polls show
(Read article summary)
Newt Gingrich looks increasingly competitive against President Obama in three key battleground states, new polls show. And registered Republicans in those states prefer him to Mitt Romney.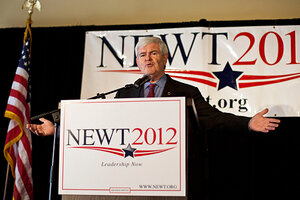 Chris Keane/Reuters
Maybe Newt Gingrich isn't so unelectable after all. New Quinnipiac polls of general election voters in three key battleground states released Thursday show the former House speaker increasingly competitive against President Obama next November, if Mr. Gingrich wins the Republican nomination.
In Florida, former Massachusetts Gov. Mitt Romney beats Mr. Obama 45 percent to 42 percent, but Gingrich isn't too far off the mark. He trails Obama with 44 percent of the Florida vote, compared with 46 percent for Obama, within the margin of error, according to the Quinnipiac University Poll, based in Hamden, Conn.
In Ohio, Romney and Gingrich pull down the exact same numbers against Obama. Each Republican gets 43 percent versus 42 for Obama.
Pennsylvania is Obama's strongest state of the three, narrowly beating Romney 46 percent to 43 percent, and beating Gingrich handily, 48 percent to 40 percent.
Those three states, all rich in electoral votes, comprise the trifecta of modern presidential politics. Since 1960, no one has won the White House without winning at least two of them.
---