Donald Trump withdraws as debate moderator. Did he just fire himself?
(Read article summary)
Donald Trump won't moderate a Republican debate after all. The problem, he said, was that the GOP establishment is terrified that he himself might run for president as an independent.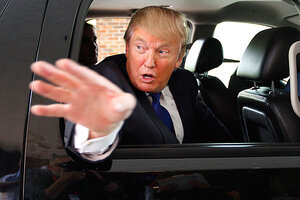 Don Himsel/REUTERS
Donald Trump on Tuesday said he would not moderate a Republican presidential debate planned for later this month in Iowa. So we're not going to have the delicious spectacle of the Donald asking which of the candidates on stage most agrees with him. (Because we're pretty sure that's how a Trump "debate" would have proceeded.)
The problem, said Mr. Trump in a statement, was that the GOP establishment is terrified that he himself might run for the White House as an independent. They want him to pledge he won't, and he refuses to do so, so he's withdrawing as moderator of the proposed Dec. 27 Newsmax debate as a matter of high principle.
"I must leave all of my options open because, above all else, we must make America great again!" said Trump in a statement.
But isn't this spin? Didn't Donald Trump just fire himself?
OK, perhaps that's too obvious a way of putting it - other headlines have undoubtedly gotten to this point before us. But consider our reasoning as to why this might be case.
The Trump debate was already a flop. Only Newt Gingrich and Rick Santorum had agreed to attend. Mitt Romney, Rick Perry, and even Michelle Bachmann had said they were arranging to be busy that day, but thanks for thinking of us – drop the check on the table on your way out.
---