New Ron Paul attack ad: Will it slow Newt Gingrich's momentum?
(Read article summary)
If the new Ron Paul attack ad helps him make further inroads against Newt Gingrich in Iowa and New Hampshire, Paul could throw the GOP presidential race wide open, some experts say.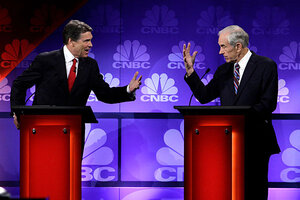 Paul Sancya/AP/File
Ron Paul has released a new attack ad aimed at Newt Gingrich. It's called "Selling Access," and it depicts the former Speaker of the House as a typical Washington insider/influence peddler who profited from his time in government.
The ad depicts a young woman touch-screening through various clips and graphs of Gingrich history. It brings up his accumulation of personal wealth, the $300,000 he had to pay for ethics violations while speaker, the $1.8 million he received from the quasi-governmental mortgage giant Freddie Mac, and so forth. It's quite slick, really. All of Paul's ads now are – his ad campaign has the quality of a front-runner, not a fringe candidate. Who's putting this stuff together?
A GOP ad man named Jon Downs, that's who. Downs is a hardened pro, a veteran of George W. Bush's victorious 2000 campaign. The Washington Post today profiles Mr. Downs and his efforts for his Texas libertarian client. It notes that some of Downs's colleagues from the Bush days "rolled their eyes" when they found out who he's now working for.
---