Did Newt Gingrich peak too early? CNN poll shows him fading
(Read article summary)
A new CNN poll shows signs that Newt Gingrich has peaked – like fellow GOP candidates Michele Bachmann, Rick Perry, and Herman Cain, all of whom surged rapidly in the polls only to fall.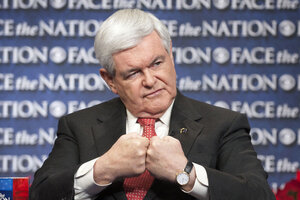 Chris Usher/CBS News/AP
The bad news keeps piling up for Newt Gingrich.
A new CNN national poll released Monday shows the former House speaker now tied for the lead with former Massachusetts Gov. Mitt Romney, each with 28 percent in a survey of likely Republican primary voters. Ron Paul is in third with 14 percent, a 5 point rise since CNN's last poll a month ago.
Mr. Gingrich's lead in the polls – which was in the double digits for most of this month – has been steadily eroding, according to Real Clear Politics poll tracking, but the CNN survey is the first major national poll in over a month to show Gingrich not in the lead at all.
The poll comes on the heels of a Public Policy Polling survey showing Gingrich now significantly down in Iowa, well behind both Ron Paul (the leader) and Mr. Romney.
---