Do new endorsements mean Mitt Romney is finally winning over the GOP?
(Read article summary)
GOP endorsements are piling up for Mitt Romney – his share of them has grown to 65 percent. While that's no guarantee, it's becoming harder to envision anyone else winning the nomination.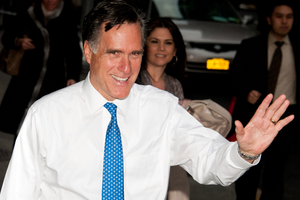 Charles Sykes/AP
Increasingly, it's becoming hard to envision anyone other than Mitt Romney actually winning the GOP nomination.
Newt Gingrich? His star is falling fast, and his momentum is all in the wrong direction.
Ron Paul? He may well win Iowa – and even New Hampshire, which admittedly would throw Mr. Romney for a bit of a loop – but his base of support just isn't broad enough to get the actual nomination, especially once success causes the other candidates to turn their negativity on him.
Rick Perry? Jon Huntsman? If the field is blown wide open by early Paul wins, combined with a dismal showing by Romney, then it's possible one of them could become a factor – this is, after all, one of the most volatile primary contests in recent memory, and fortunes can shift quickly. But given where they both are right now, it seems a monumental task.
Rick Santorum and Michele Bachmann barely seem worth mentioning at this point.
Which leaves... Romney. It may be one reason that more and more key GOP figures are coalescing around him.
Romney has always been more the choice of the Republican establishment, but now he's starting to win endorsements from key conservatives outside the establishment as well.
---